A respite and mental vacation, that's what we had as a family last night and we are so thankful to our friends Charity and Birk and their kids for welcoming us into their home and hearts. Charity is a great cook and she made us delicious lasagna, homemade yummy bread and great green beans and the company with dinner was fantastic. Mark enjoyed getting to meet the family and getting to talk to Birk about theology stuff. John was exited from the time that we told him that we were going, was being silly at the table, loved playing in the floor with the kids and cried when we told him that it was time to go home. Charity promising that she would bring the kids to come see him next week was the only thing that settled him down so that we could go. I always have a wonderful time and am looking forward to getting to visit again. Charity loaned us
Before Five in a Row
, a homeschool book and it really looks like something that is going to work for John, it's at least going to be fun trying it. She also sent yummy leftovers home with us and I sent them on home with Mark today, because I'm not going to be there to cook him yummy stuff and the cafeteria people are cooking for us.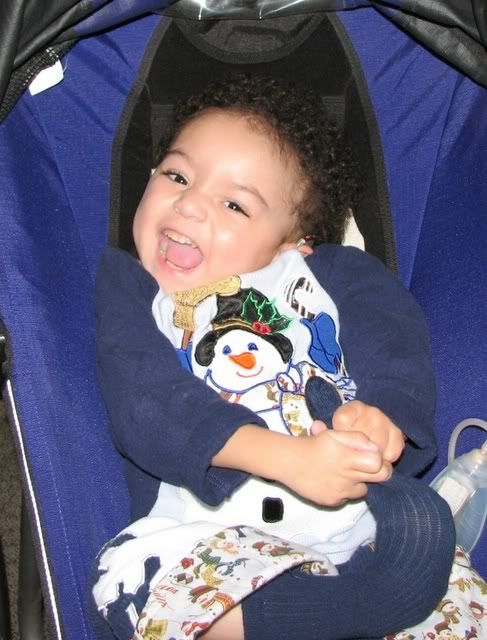 Julie wrote and asked for a smile, so here's the biggest one of the day. He was cracking himself up so badly, because he was doing this...
...silly boy, he was so desperate to have his socks off, just to ask dad to put them back on again of course, that he was biting them and pulling with head and hands. Each day he has more energy and is more able and more silly.
This picture is for Ellie...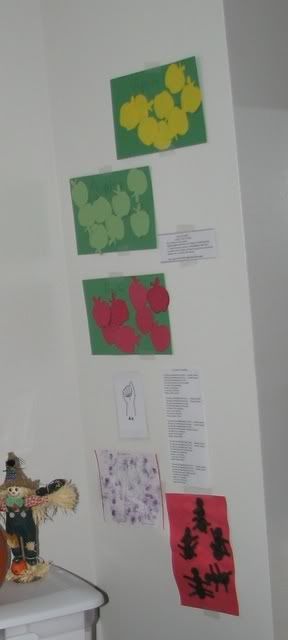 ...John loves these. Tonight after his dad left he was so excited to get back up stairs so that we could please open the school box, so we glued apples on trees and had a great time. The activities that you've made for John are not only fun, you have accomplished something that me and all his therapists haven't been able to do, you made stuff that makes him want to look at what he's doing. John has always looked at something and then turned away and just done it, not these projects, these he is actually looking for the dots of glue to stick his apples and ant legs on and enjoying it. Oh, and the Ants Go Marching song, we have to sing that several times a day and most often at least once in the cafeteria.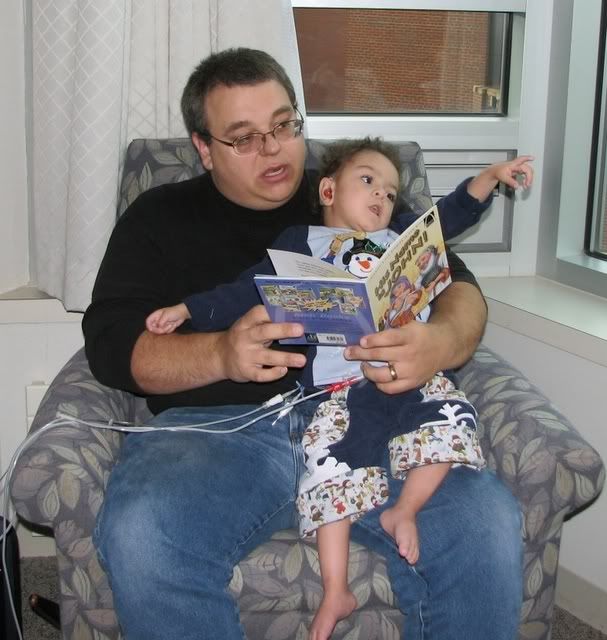 John was enjoying daddy reading to him, but kept having to show him his school work too. We love these new Arch books that are written by Pastor Eric Rottman. The first one he signed and brought to John in the hospital in St. Louis and this one Mark picked up while he was at the pastors conference this past week. We'll definitely be on the look out for more of them.
Speaking of books Mark is taking our load of books back to the library for us. Some we have enjoyed much more than others, here's the list:
The Everything Book
by
Denise Fleming
Wish we would have found this one a year or so ago.
Chicken Soup with Rice
by
Maurice Sendak
This one is fun!
Let's Go Home, Little Bear
by
Martin Waddell
I think we'll be reading lots more Little Bear books.
The Pig in the Pond
by
Marin Waddell
This one hit the favorite list and we'll eventually have to buy it. It is laugh-out-loud funny, when Neligans pig jumps in the pond and splashes all the ducks and geese out we couldn't help but laugh.
Tikki Tikki Tembo
by
Arlene Mosel
I like this one better than John does, but then it's because I get the fun of reading Tikki Tikki Tembo's long long name over and over. We'll be checking this one out again.
The Cake that Mack Ate
by
Rose Robart
Too funny, of course then we've had dogs like Mack before! We'll definitely be seeing a lot of this one.
Millions of Cats
by
Wanda Gag
Um, okay, well I'm sure we'll check it out again, but since we are avowed dog people it was good but well it's cats.
Good Job Little Bear
by
Martin Waddell
Another fun Little Bear book.
Chewy Louie
by
Howie Schneider
Another laugh-out-loud funny book, about another dog that I think we've owned before. When the dog ate the trainers guitar we knew we were hooked.
Do You Want to Be My Friend
by
Eric Carle
Well, not my favorite of his books.
The Silver Pony
by
Lynd Ward
A wordless book, when I read it I didn't really get it and when Mark read it he saw themes of redemption and such, figures :)
Cloudy With a Chance of Meatballs
by
Judi Barrett
We'll have to try this one when John is a bit older, even I couldn't really get into it now, so I may have to be a bit older too.
The two books that Mark is returning to the Library for me are...
Real Food: What to Eat and Why
by
Nina Planck
This is one that will most certainly be put in our home library and will change the way we cook, shop and eat!
Eat Fat Look Thin
by
Bruce Fife
Diet books come and go, the diet industry in my not so very humble opinion is largely a rip-off and detrimental to the health of most people. All my life the more I've dieted the more weight I've gained. So this book struck a cord with me in that it talks about regaining health and that weight is just a symptom of an overall health issue. A good bit of what he talks about is impossible to implement in a have-to-eat-in-the-cafeteria setting but some of it is and it does seem to make me feel better.
Our list of books for Mark to pick up at the library for us next time is growing, growing, growing and we will get to go to the library here and check out a few this week too, that will be fun.
John's feeds are started back up, we still have the g-j-tube replacement tentatively scheduled, but now for Wednesday at 11am. So he has between now and then to prove that he doesn't need it. He's certainly acting like he's doing great, and getting bigger and stronger each day so we'll see. Basically he has to make it to clinic Tuesday afternoon without puking or exploding.