The little charmer is asleep in his bed and has had a wonderful day. The past few weeks have been an ongoing adventure that has left little time for posting. Since John's GI and Nephrology appointments we have seen improvements across the board. All of his therapists have been impressed with his progress and are giving us more confidence in what John will be able to do. Mr. Paul the physical therapist sees John twice a week, once for PT in the pool and at the mall in Independence using the play area and for the interaction around other children. Each time John gets in the water he makes ever bigger steps. He was even trying to put his own face in the water this week. With the improvement in his movement we have decided to remove the seat from his gait trainer for when he is inside tha house, but we're not quite ready to take that step when he's outside or someplace else. That will come with time. Miss Desiree, the occupational therapist, has started John on letter recognition, color matching (different objects that have the same color), and continued play with markers and a magna-doodle. We see Miss Amy, his speech therapist, at the Moog School every week and she continues to challenge John in working hard to make his vocalization clearer. This is in some ways his hardest and most frustrating task, but it also does bring him joy and laughter. He so much wants to communicate his needs, and we are able, more often than not, to figure out what he needs. Today he showed us what he can do when it's important to him. His fine motor coordination combined with body movement made it possible for him to roll and scoot himself over a foot to reach his cup when he wanted a drink and then move himself, with the cup, back to his original lounging position. His ability to remember how things work and manipulate things, not just his parents and the other adults in his life, was demonstrated when he used the dvd remote to navigate through a couple menus and start his favorite movie a second time. We are looking forward to things being a little quieter this coming week after spending nearly two weeks in North Carolina with family and coming home to therapy appointments every day for the past three days. The pictures below are just a few from our vacation.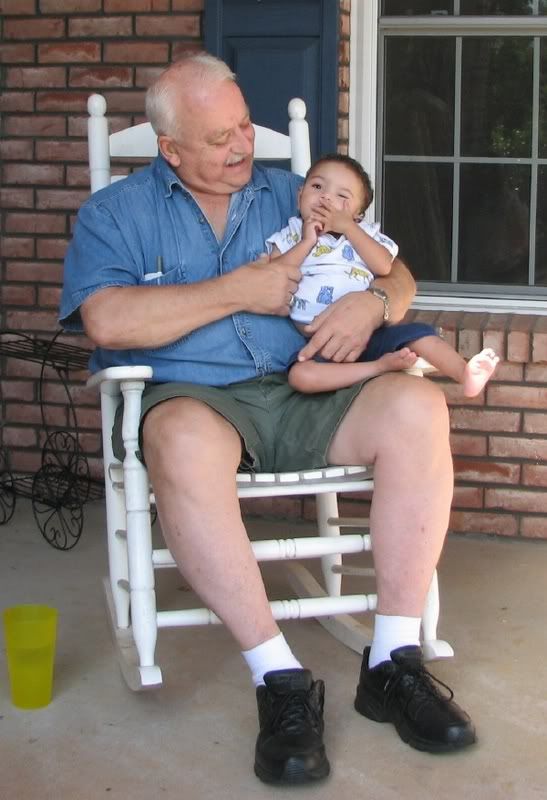 This is a picture of John with his Papa. He was getting a little fussy until we got him to start blowing kisses.



Daddy, Papa, and John John all together.



One of John's favorite games at Papa's house was to run down the grassy hill in front and have someone pull him back up to do it again. This time John's twin cousins enjoyed playing the game with him.



When it was Daddy's turn John got to have some extra fun because Daddy can run fast enough to make John smile real big.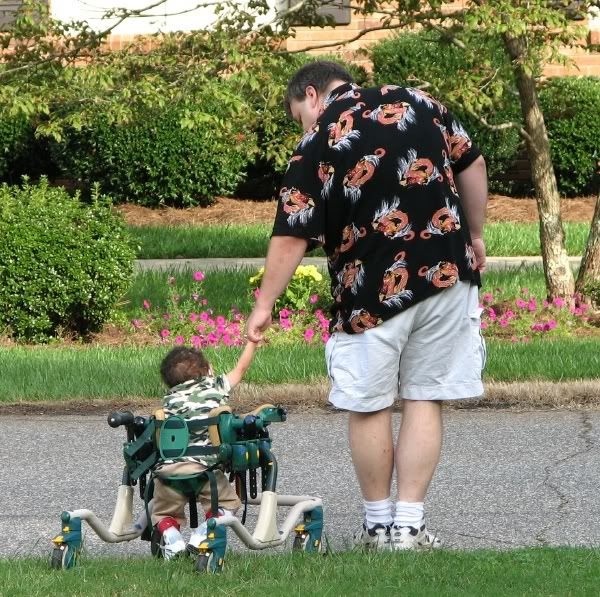 Whenever John reached the bottom of the hill he would reach out to hold Daddy's hand while we walked on the street to the driveway to go back up to do it all again.