John was finally discharged on Friday in just enough time to get some supper, get our shipment of medicine and put him to bed. He was glad to leave the 'hospital' but a little dismayed to still be here and not going home. After all, where we are temporarily calling home is just one elevator ride away from a place where I took him every day that he was in-patient. We've both told him that this is home for a while, slowly that knowledge seems to be sinking in, not just for John, but for us grown ups too. I must say that I can't imagine how some of the moms around here do this with all the meds, tpn, formula and such and have not only their kid being treated but other kids here too. We met one such mom in the elevator yesterday and she and her kids have been here since February, we've barely broken double digit days and already home seems a million miles away and I only remember details of home things when I stop to really think of them. That is one of the things about this that is so weird, not only while here doing this, but also when you go home, a trip from Earth to Mars could be no stranger than the trip from hospital (in- or out- patient) to home. Now, I'm not complaining, there is really good stuff here, many things to be thankful for and not the least of these is the nice cleaning lady that comes daily and the modern technology that lets me stay in touch with friends and family.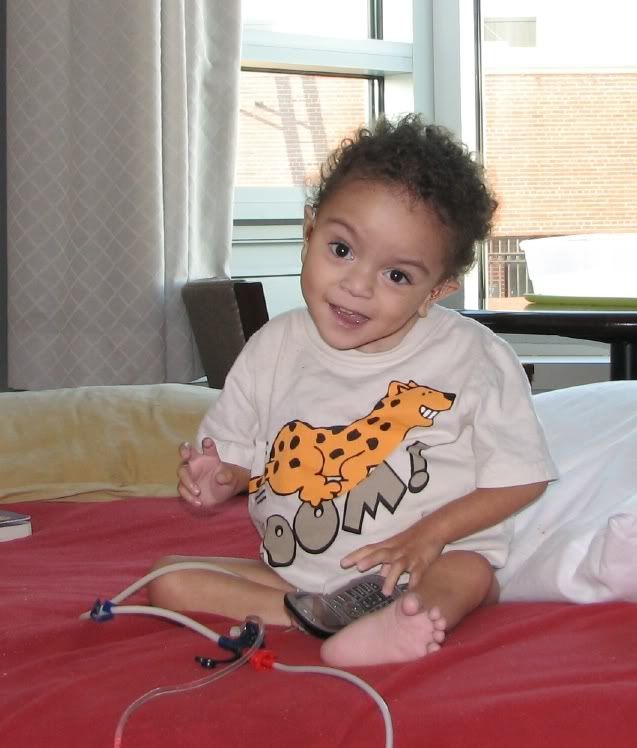 Probably our favorite piece of modern tech is the cell phone with speaker phone on it. Because of John's hearing aids it's hard for him to hold the phone to his head and hear, doesn't help that he keeps moving it so that he can look or give kisses to whoever is on the phone. Speaker phone has solved that and John now gets to hear daddy talking several times a day, and nearly always at night to say prayers together. Having the cell phone also allows us to wander, walk, ride and go and see, even if just up and down the hospital corridors without worrying that someone is trying to contact us.
Not quite 48 hours into our out-patient life and we are starting to find ourselves in a routine of sorts. Meds and tpn dictate a lot of life, but really John only has 2 appointments a week, so far, one Monday and one Tuesday so we have lots of time to read, play and wander, actually I think wander is what we do best.
After John took several walks through the hospital yesterday in his gait trainer, he got to go for a ride in the stroller. He used to hate this thing with a passion, but now loves it and is eager to ride again this evening. I thought we'd start our exploration with a simple walk around the block, lol, well explore we did, as a walk around the block actually entails about a five block section of town, but it was good to be outside and hear the birds and bugs and feel the breeze, albeit I still don't want to know what feel out of the bird-laden tree and hit me in the head. I would have never thought of Omaha as a hilly place, maybe it's not compared to the San Francisco that we see on tv, but compared to Slater, wow wee there are some doozies around here. I think we'll be sticking to our 'block' for a while!
Last night we got a call from the couple, Calvin and Lillian, who offered to give us a ride to church this Sunday. I'm always nervous meeting new people, and going to new places, especially new churches, today was wonderful. Calvin and Lillian are very nice people, and their church is perhaps the most friendly, inviting church I've ever walked into, not to mention one of the liveliest. I've never been in a Lutheran church with a gospel choir before, I've seen big fancy choirs that make the worship service more of a concert than a worship service, but this group of people helped transform an already beautiful church setting further into holy space. This is also my first time to attend a predominantly black congregation, yet with the TLH liturgy woven through this lively service it was at the same time very different and so totally home. It was so great to stand amongst other believer and proclaim our faith, receive forgiveness of our sins and pray for those in need. What a reminder when we prayed for the members of their congregation that are serving in Iraq, the most stressful day in the hospital is still air conditioned and no-one is shooting at us! We are looking forward to attending here for the duration of John's stay in Omaha, and even today I'm positive that saying good-bye to them will be hard when the day comes that John gets to go back home to Missouri. Bible study is Thursday night and we are looking forward to getting to attend. These moments of normal life are helping to make this a home away from home, and helping to keep the sanity of the mommy at least as in tact as it has ever been.
On the way back from church they showed us where Lillian teaches at a special-needs school that is in the 'block' that we walked around yesterday. The principal was there and invited us in to take a quick peek at the school, John was excited and signing school, we've been invited to come back this week to see it during school hours and are looking forward to doing that. We also saw that the Munroe-Myer Institute is in our 'block.' This is the Institute that has the best child-adapted pt, ot, and the kind of speech therapist that John needs. I had toyed with skipping therapy all together this year because I was afraid that it was going to be several bus-transfers away from here but here is the place right in our 'block.' So we will be checking them out this week as well. We know that John can see the speech therapist there as she works for Shriner's and all care there is free to the child, but pt and ot we will have to find out more about later.
John is napping now, I guess this is when I'll start updating the blog and answering email, the rest of the time is spent playing, walking and such, and at night John is too light sensitive to sleep through me sitting in here with the computer on, but that's cool because it gives me time to go sit in the other room and watch the end of the Lost dvd's that Mark sent me :)
Mark is going to make John some side rails for his bed. Poor kid, he's such a shrimp that he still sleeps in his crib at home, and normally in a hotel room it is 2 doubles, 2 queens or whatever and so we can put him in the middle and while he wiggles some he doesn't get near the edge. Now for nap he is fine, but during the night I keep waking up to legs swinging over the single bed that he is sleeping on. This morning he just wanted to come to bed with me for a while. Partly an insecurity with the bed he's sleeping in, partly because he's a cuddle bug and always has been. Funny though as he gets older he wants to cuddle but not, you should be there but be prepared to move over when he's ready for some space, as you can see it didn't take long this morning until he had the bed and I just gave up!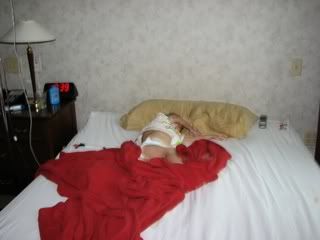 Oh, and by the way, that's my pillow that he stole, and my blanket that he didn't exactly want on him, but don't put it on you either. I am planning on tucking him in to his own bed, well as soon as I get the med change reversed. He was on a medicine that binds bile salts and they wanted to see if he needed it anymore, um, yeah, he badly needs it as his little bottom is now sore enough it looks like we've been toasting him on the grill occasionally. Until that is settled, I'd rather have him wake up a few times a night to get changed, but once that's fixed, it's side rails and tucking him in time cause mommy needs to sleep!
As always thank you for your prayers. So many have been answered for us, everything from a fever not being a line-infection to a few extra diapers to make it through until the boxes arrive from home, and many things in between, mostly today to meet some wonderful kind Christians and find a church home away from home where we can hear the Gospel clearly proclaimed and find that peace that comes from Christ's Words of love and forgiveness even here where we are, home away from home.