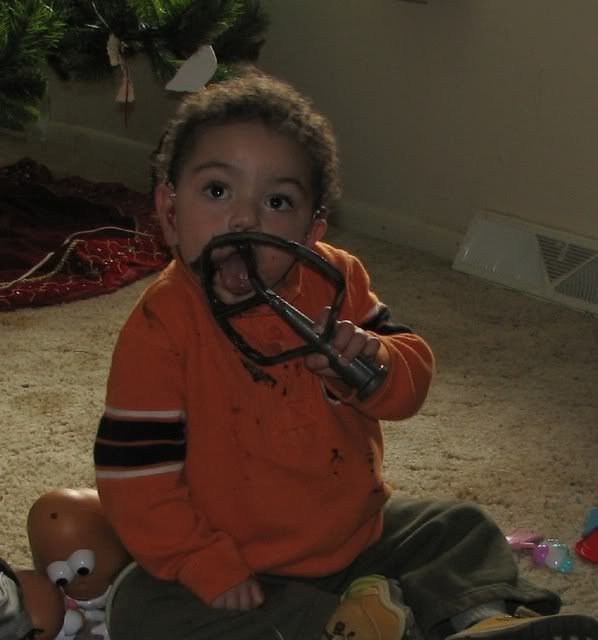 We started out the morning with a little boy who gave himself his own meds and couldn't get enough of the e-card that Aunt Jodi sent him. He's growing up, but he still loves to lick those beaters. He got a chance at this one this morning because I was making birthday cake this morning because of the disaster that I created yesterday, lol, the whole sordid tale is
here
.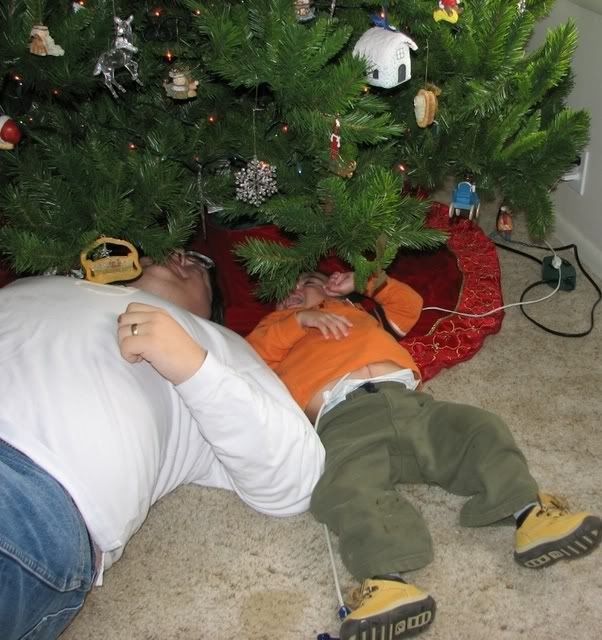 After all the screaming over the Christmas tree eating daddy, Mark decided that today was the day to let him lay under the tree with him and see that it really didn't eat people. At first John wasn't too sure of this, but then the idea caught on and he laughed, carried on and had a great time. Of course when dad was done laying under the tree and got him out, John signed to him that he wanted more under the tree!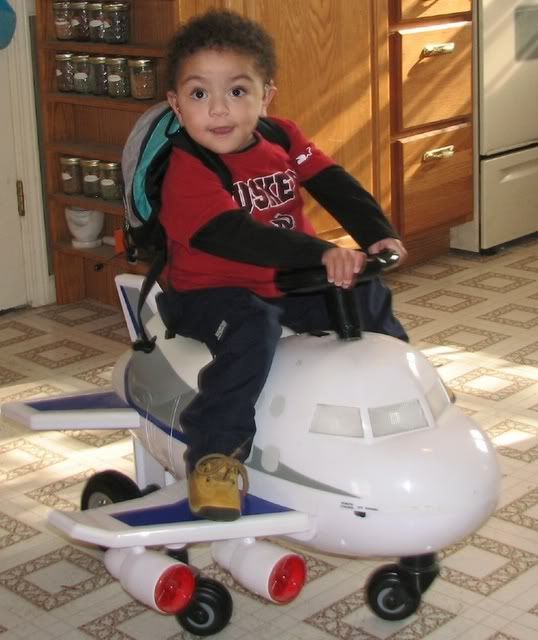 John was ready for an airplane ride and so dad brought it out in the kitchen for him. Today is the first day that he figured out how to make it just go round and round and round in circles. That he's not cross eyed in the picture amazes me because by the time he stopped and I got to take this one he was quite dizzy and swayed enough that he nearly fell off the plane.
I thought he would be done with the plane after making himself dizzy, but no, running into the cabinetry would be fun, and he finally figured out how to back up and get away from something that he ran into so that he'd have a chance to run into it again.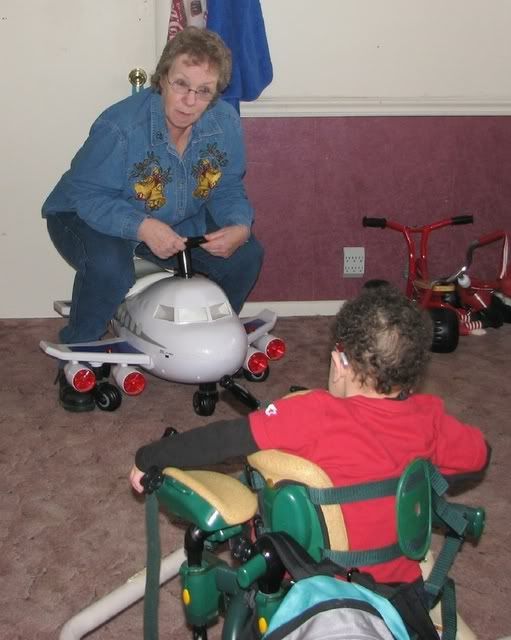 My mom and my Aunt Libby came to see John for his birthday and Grandma wasn't in the house two minutes before she decided that she needed a ride on John's plane too. John wasn't too sure what to think of this, it was kinda funny, but in end he really thought it was much more fun to play dominoes with her.
John wasn't too sure about Aunt Libby when she first came in, preferring to hide around the corner a bit and watch her, but later when it was present time and she had the presents he thought she was cool.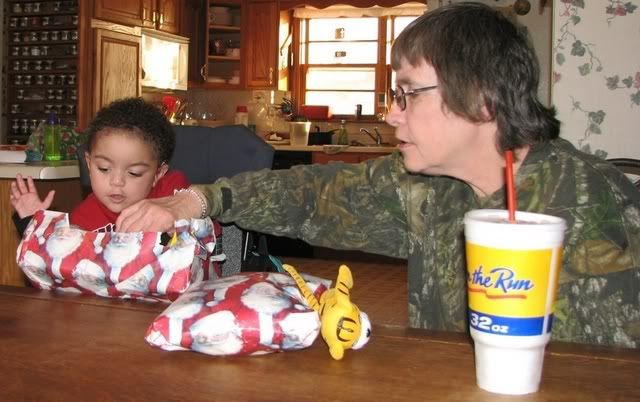 He really enjoyed her helping him get into them.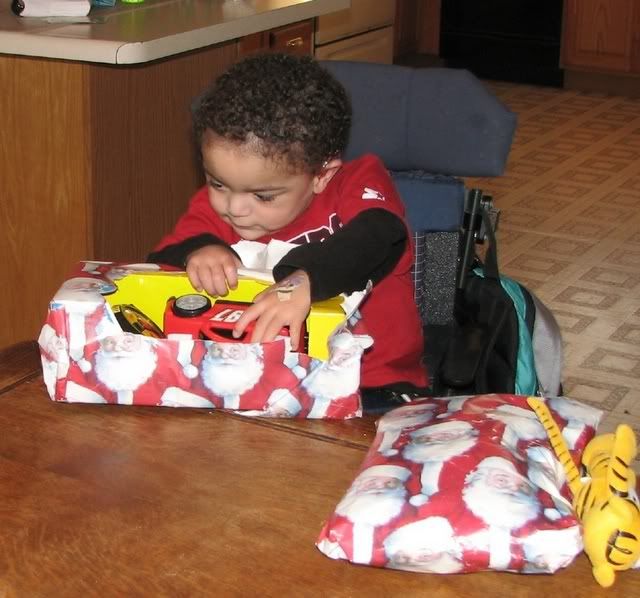 Last night a sweet couple at church sang Happy Birthday to John, and today Uncle Paul, Auntie Cam and Isaac and David called and they sang Happy Birthday to him too and although he smiled and enjoyed it I'm not so sure that he really got what all that singing was about, but he certainly knew that these were presents and they were for him.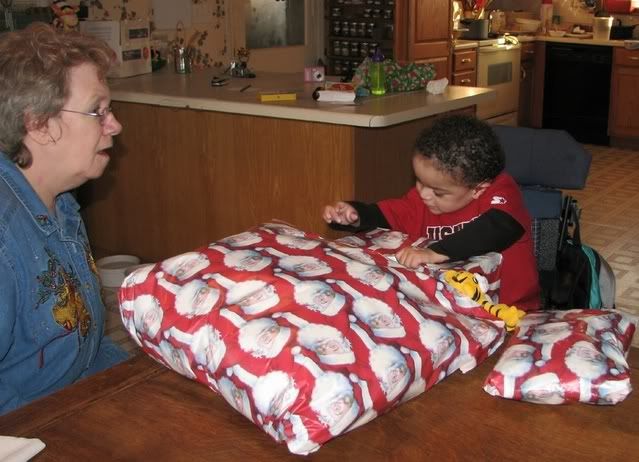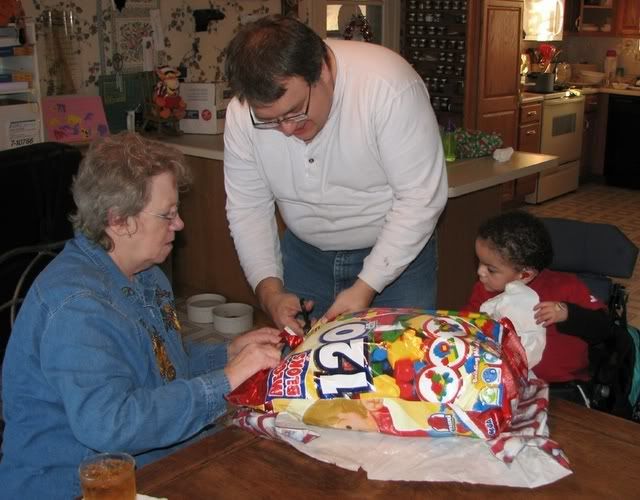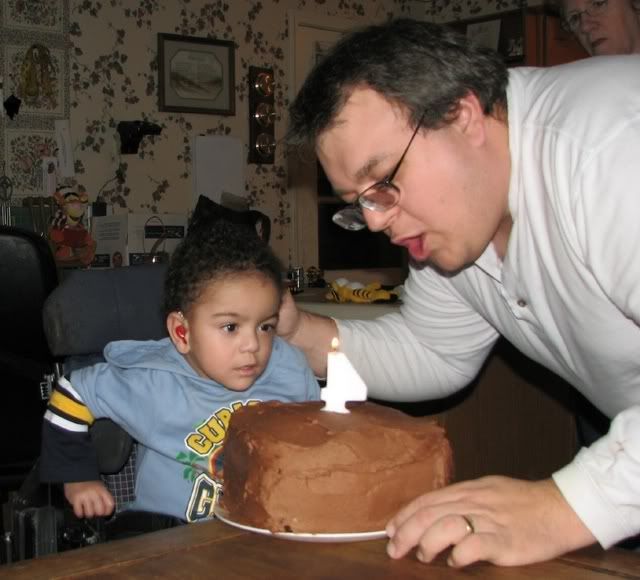 We have been amazed to watch the changes in John over this past year, most especially those changes that have happened since August. Tonight he even blew out his own birthday candle, twice, we let him have it relit 4 times, he's 4 after all ;) The last two relights he was able to blow it out himself. This is a huge first for John because up until tonight he's not been able to muster up enough air to do much more than blow an itty feather off one finger and has never been able to move air voluntarily through his mouth much less enough to blow out a candle. We cheered and clapped, and I learned that you really shouldn't clap with a recently blown out 4 in your hand, oh well that wax peeled right off.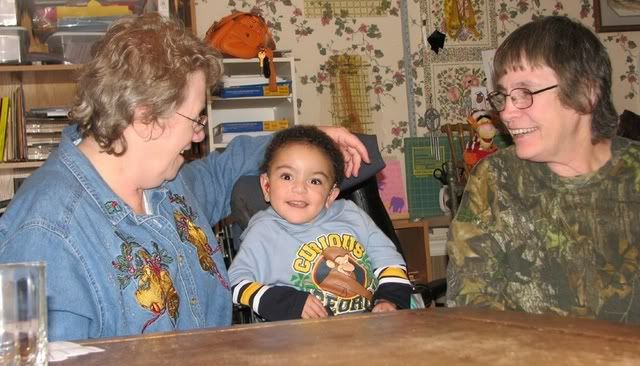 Before Grandma and Aunt Libby left we got one picture of the three of them together. Only thing was every time the flash went off John would act crazy and finally we took this second shot with Aunt Libby's camera and she printed off a copy of the crazy boy for me.
I can't believe it's been 4 years since John was born. Tonight there is snow on the ground much like the night that we were rushing to New Orleans to meet our cherished little boy, but instead of a very sick little boy in the hospital we have this laughing, cheerful much bigger boy who is snug in his bed after a great birthday at home.