Well it was the dead refrigerator that had to be replaced that caused us to stay home from vacation, right after vacation was over the washer died, the dryer died over a year ago and we have been waiting to replace it until we could figure out what kind of washer that we wanted and for that one to die. Die it did, replaced it has been, and of course the best part was that there was bubble wrap. What you see John doing in the picture is very intentionally making sure that his wheels go over the bubble wrap blob so get the best noise factor.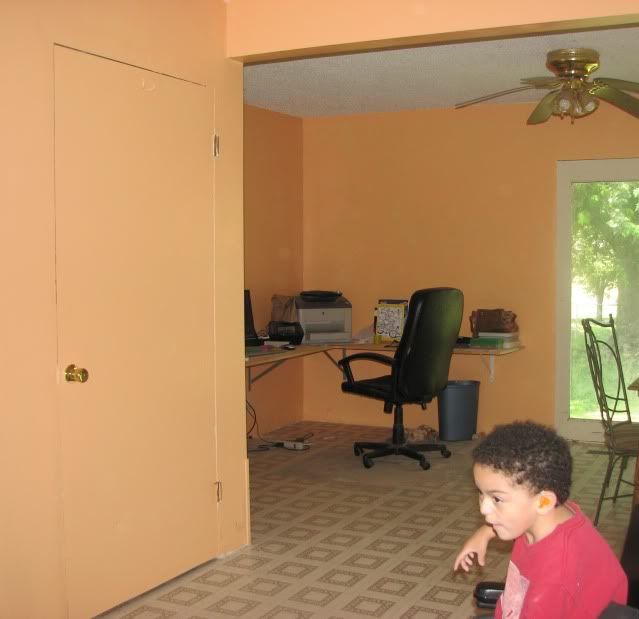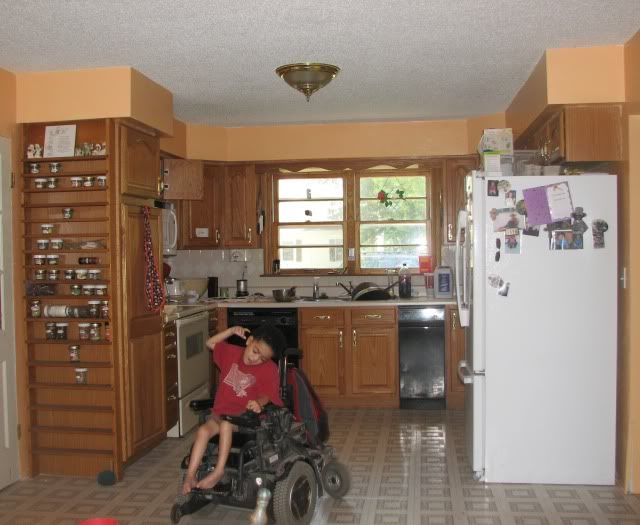 This was also a good opportunity to show off the paint job. We spent the majority of vacation, a few hours a day at a relaxed vacation-like rate, stripping the wallpaper out of the dining room and kitchen, puttying walls, and priming and painting. We learned some very important lessons along the way
Boys are attracted to anything wet - there are a few places where we finally just gave up and painted cause we'd tried to fix the drywall so many times and John kept coming to touch it just before it was set.
Silly dogs like to lick paint - well at least ours does, she was mildly interested in the drywall compound, totally uninterested in the primer, but orange paint, holy cow, now that must be some good stuff because we had to keep her on her leash tied to the drywall compound bucket far enough away from all walls or she'd lick the paint off almost as fast as we could put it on.
TV doesn't lie - well okay it does, but not so much when it comes to those DIY shows that say that it takes twice as much money and time to do home improvements as amateurs think it will, yep, sure does, and we have no qualms about admitting we are amateurs.
We have a lot to learn - about the whole process, but at this point we are one room down and several more to go and most importantly we learned...
...that we love doing this! It's not something we would attempt to do for others, or professionally or anything crazy like that, nope, but to just make these decisions together and then spend the hours that it takes standing in the same room peeling wallpaper, chasing the dog down to get our tools back, stopping for an UNO game with a silly boy and trying to get him to stop helping with the wet sponges and sprayers, well all of that is so much fun that we'll enjoy doing the rest of our house and when we get to the last room will probably have to come up with some other project to do together. For now this room still has some stuff to be done, shelves, chalkboards, etc, flooring (we have crazy ideas for that, I'll show pics when we're done of course) and then at some point we'll be on to the next room. After 15 years together, 6 of them with John, it's often still like a camp over with your best friends!