When the news came that we were going home I was excited, Mark was excited and John well, John was interested, but when he heard that daddy was coming he was excited too!
It took a while to pack and load all the things that we had accumulated/brought to Omaha. As you can see in the picture when it came time to load John was ready to help, he grabbed the cart thingy and was dragging it through the room, well past the first load of stuff that needed to go on it. When the 2 carts were full, he was so good to follow us down the hall and get on the elevator and then while we were trying to figure out how to put all this stuff in the Jeep he ran around in his gait trainer, never straying onto the driveway or running into anyone, he was definitely a big helper.
Finally all was in readiness, the inside of the Jeep was so full that to get John out later on the road we had to unpack the side of the back seat and even had to set things on the ground. There were suitcases and the bicycle stroller on the roof and on the rack on the back that Mark got for carrying home dead deer there was a pile of stuff that came half way up the Jeep's rear window. We must have looked crazy traveling down the road but the most important part was that we were going HOME! We were only there for 76 days, there are people who live in the Lied center for years hoping that the day will come when they will get to go home, so most of all we just felt blessed to actually be taking our little guy home.
I was a bit worried that John wouldn't remember home. He slept for a good bit of the drive and was sound asleep when we pulled into Slater, but when we pulled in the driveway he woke up, took one look at the house, did his happy dance that is usually reserved for McD's or school and told us 'feed dog' and 'in' and was so excited to be here. Lucy was happy to see him too, and they spent a few minutes snuffling and petting and then it was time to get a little boy in bed. Even though we got home about 3am we had to take one more picture of John in his own bed before actually going to sleep.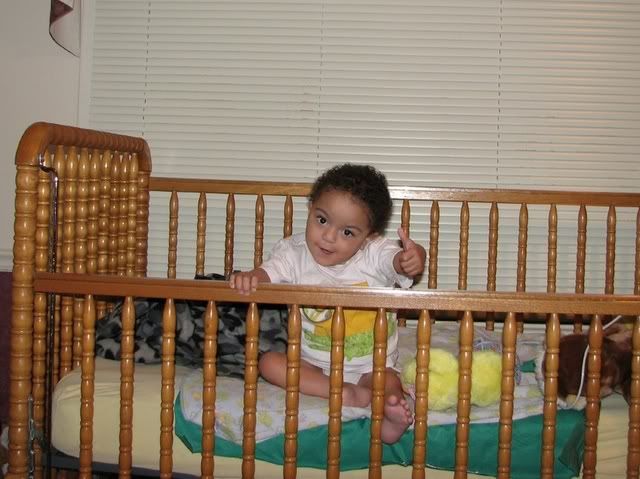 John slept for a couple hours and then woke up and needed to be changed, cuddled and talked to a bit and then went right back to bed and slept for several more hours. Unlike our Lied room, John's room has doors that close and is completely dark, but it didn't take him long to readjust to home life and he is now sleeping in his own bed again.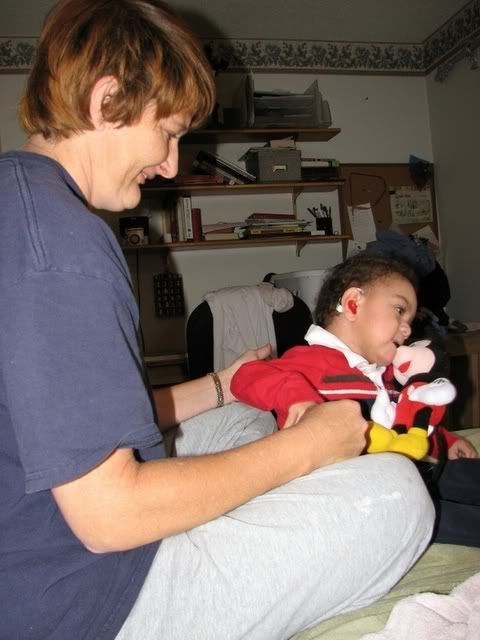 Our friends, Becky and Elmer, came to see us this weekend. John was thrilled to see them too and spent the weekend showing them just how big and strong and silly he has grown. This morning Becky was making the Mickey kiss John's cheeks and then he reached out and bit his nose and sat there wagging Mickey around by the nose, we were laughing so hard we almost missed the picture. Of course if you're going to bite a mouses nose...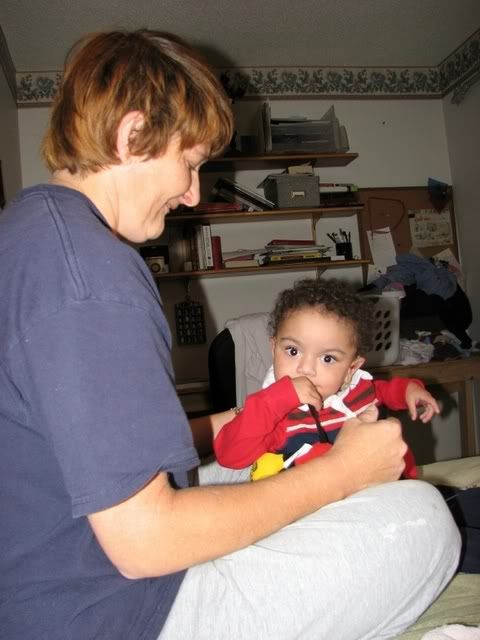 ...you should bite his tail as well.
It was great to have our friends down to visit and we look forward to their return for Thanksgiving, this time with their daughter Tiffany, John will certainly enjoy all the bubbles!
It was also wonderful to attend our own church for Saturday evening communion services, there is nothing that says home like hearing the Word preached by Mark, sung with Judy playing and tasted too. John did pretty well in church, sat in Becky's lap and Tide-sticked himself for a while, and is now loud enough when he gets to talking that he really needs a husher.
We are still settling in, not too long before we left for Omaha our basement flooded and we did a whole house musical rooms, moving Mark's study from the basement to our bedroom, our room to John's, John's room to my sewing room, my sewing room to the living room and my computer to our new room. In the middle of this John and I left and poor Mark was left home with the chaos and the wife who called on the phone and said things like, 'oh thank you for moving that table, now I've changed my mind and don't want it there anymore.' He was always nice on the phone and as there are no new dents in anything around here I'm suspecting that he didn't throw the phone after I got off either. Good husband! So now he has succeeded in making us an entertainment center out of three bookshelves, a computer desk out of one bookshelf and rearranging closets and house and all of it with just a bit of my help when we got home. Of course John has enough energy that in the middle of all this he pulled each and everything he could reach down and giggled when it spilled across the floor, oh and then ran through the contents of whatever it was.
So if there is some kind of blogger award for the husband who has put up with the most craziness and still remains as sane as ever, nice to his family and sweet too I'm nominating Mark for it!