The shock was for me. In a discussion about John's JP-drain, wound drain, continuing to drain the nurse coordinator used the words 'end stage liver disease'. So we talked about how John's liver cirrhosis is serious, but if he gets off tpn and remains healthy he could do fine. Regardless, just using the words 'end stage liver disease' was still quite shocking. We know that John's health is fragile, we've known this since day one, it's just that there are moments in time when reality slaps us in the face. These are the times that we continue to remind ourselves that John is in Christ's hands, and that His will is perfect, breath deep and keep going.
Despite the shock of the words today John is doing very well. I'm a little concerned that his JP-drain is pink again, but hopefully that will settle down overnight and tomorrow's labs will show that all is still going well. I was able to turn his tube feeds up to 35ml/hr tonight and he was able to take the first bit of his evening meds and not throw up. Here's hoping that the second half goes as well.
The shenanigans, well those came with the Lutheran Hen's family. Charity and the chicks came into town to hang out with us and to go to the library together today.
The kids and adults had a great time. John loved having the Chicks push him around the library in his stroller. I think he got to enjoy more wheelies today that all the wheelies he's ever enjoyed before. And the Chicks, well they sure seemed to enjoy pushing that silly boy around.
Later back at our Lied room the fun continued...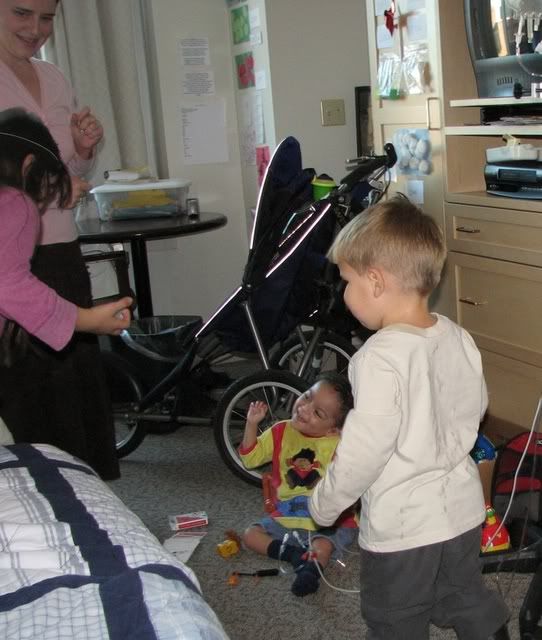 ...one of the things in John's Halloween booty was a teeny tiny water gun, well one water gun and 5 children is just begging for sillyness, so with some saline syringes as additional water guns the fun was on. John giggled and carried on and enjoyed being shot just as much, or maybe even more than shooting. By the time the water fight was over everyone one was at least a little wet, John and Chick#4 were both pretty darn wet and smiles were irrepressible. John enjoyed that the girls would give him drinks out of their syringes as well as shoot him, what a silly boy. John got his first tattoos today too, I've promised his dad that I would take pictures so I will post those tomorrow. Even when he was going to bed he was telling me that he had a pumpkin on his knee.
God always brings blessings from hardship, and the Lutheran Hen and her family is certainly a blessing that we are very thankful for!