Now that I have the computer set up in our Lied (outpatient) room let me share a couple pictures that I had from home before we left.
What is he so intent on? The computer of course, what else. The child has learned to work the computer in ways that continue to impress me. He's always been pretty good at electronic things, but this has grown by leaps and bounds lately. Lol, as soon as he can read and type a little I think I'll let him start updating the blog a bit himself, really I probably will just find occasional updates and 'know' where they came from.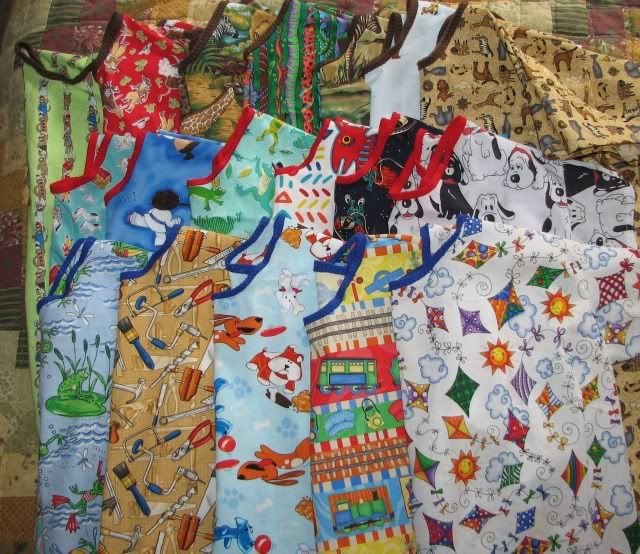 Before we left I was able to get a little sewing done and these are the hospital gowns for John's stay. Kids get so few choices in the hospital that I figured this would be nice for him to have some control over. Now that we are outpatient he still is wearing them just because he likes the fabric I guess, he's definitely got an opinion about which one he will wear when, opinionated, you bet, we love to see it!
Since the last update we did get a room upstairs, out of the PICU but still in patient. We hated it! Okay, the nurses were nice, the room was fine, but still we hated it. It's very hard when the nurses aren't doing anything more than what we do day in and day out and all we are doing is sitting and waiting. John had an upper GI done and all the contrast stopped about half way through his bowel and then came back up. I was scared this meant that he would need further surgery but Dr. Grant told us that he just needed more time to heal. John now has enough gut, weird sounding, that it just takes more time for it all to heal and wake up properly. Finally last Monday we were allowed to go outpatient, up until yesterday we did the exact same things, wait, watch, let his bowel rest and replace the fluids he lost. Ah, but it was outpatient, so while the medical stuff was the same the days are much different, they still get long and boring but they are less frustrating and less annoying because we have control over our schedule and how and when things get done. I will admit that it was rather tempting to use our new found freedom to do whatever the heck we wanted to with regards to how much John could drink, eat, do etc., but maturity and reason (don't know where those came from) set in and so we used our new found freedom to distract John from the unpleasantness of the rules under which he needed to live.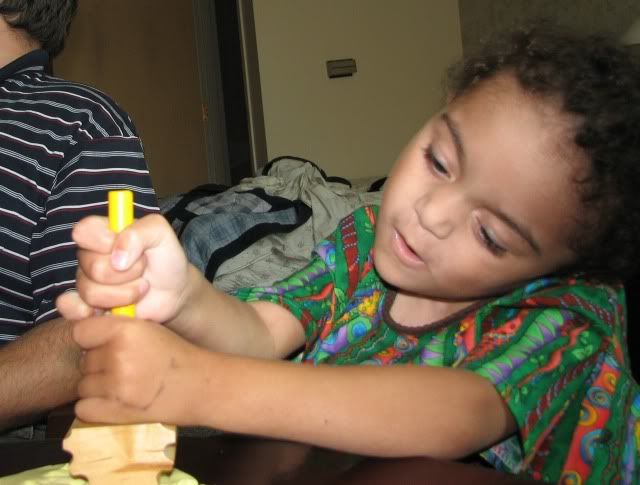 Lot's of laughs and playdoh time with dad was a great distraction.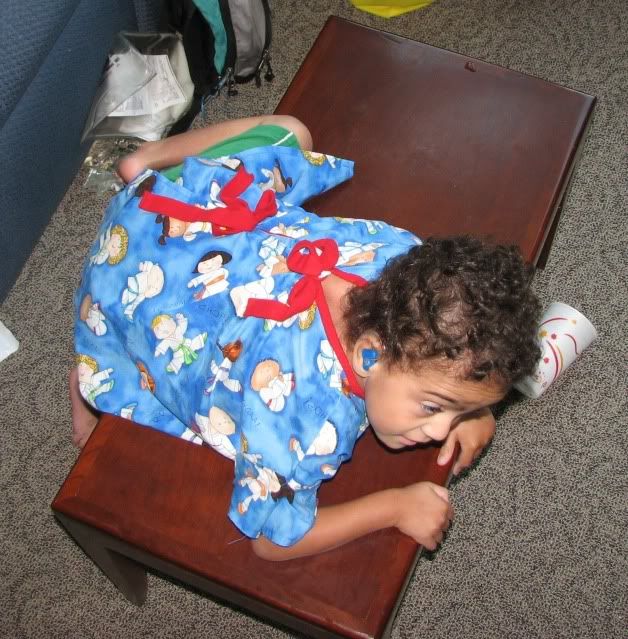 We have watched more tv and played on the computer more than I would care to admit too, but some of it has been rather funny and at this point John had stood in front of the couch for a good half hour and then I don't know why but he decided that laying on the coffee table was a good option.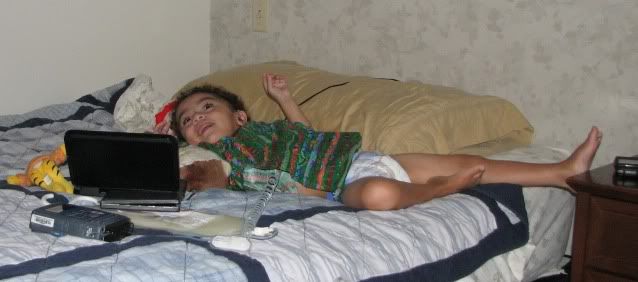 The purchase of a little dvd player has been a great investment. Not only does it help time go by in such places as ER's and hospital rooms, but John loves to run the thing himself and lounge, I have moments when I wonder just how close 5 is to teen, he sure reminds me of one at times.
Today we are anxiously waiting for dad to come back. The days that Mark is here fly by, the days that he is gone creep by so slow that I literally lose track of which one we are on. John's gut has healed rather nicely and he has been clamped (g-tube not open to drainage) for over 12 hours and is doing fantastic. We should easily be able to restart feeds on Tuesday after he is seen in clinic. He hasn't needed replacement fluids in over 24 hours and while I don't have lab numbers to prove that he is doing fine I can look in his face and watch his actions and tell you that he is doing great.
During these long days we have enjoyed visiting with friends in the hospital, John is fascinated with Quintin's sister, she has heelies and is silly and he is just positive that he should follow her wherever she goes. He wakes up in the morning asking me if we will see them again today, and most days we get to have lunch with them so it breaks up our days nicely and seems to entertain them too.
Before I leave this off I want to say, Papa, I'm sorry I've not been updating this as regularly as you would like, I'll try to do better, we think of you every day and I wish that you had a window into our room so that you could see what this goofy grandson of yours is up to, he's a nut and getting nuttier every day (how could he not with his mother). We love you and I'll try to get back to doing this on a regular basis!
Thank you everyone for the prayers, calls, texts, emails, mail, etc. These days are long, slow and boring and you help make them better. In the end though I am glad that they are boring because that means that everything is going fine, if slow. I was reminded again the other day that we are not here for ourselves, but to bring the comfort of Christ's love wherever we can. If you have room in your prayers please add a 20 something mom that is down the hall from us with her beautiful 2yo and 2 month old babies, they are fine, but her husband, her only family pretty much in this world is dying of cancer and barely even knows that they are here with him. We get to visit and talk to her as we go in and out of the hall here, John makes her smile, we do all we can to help. Look around you, you know someone who is hurting and in pain, that's why you are here, give them a hand, even if it's just a smile for their day, let Christ shine through you to the dark and broken world around you.