In John's last appointment with his GI docs in Omaha Dr. Mercer told us that he thinks that John's system has been so improved by the urinary tract surgery that he just had that we should think of him as John 2.0 (that's a computer way of saying new and improved, usually with some major kinks fixed). We started g-tube feeds last night and I must say that 2.0 might just be right, I'm amazed at how well he is doing today. The last time we tried to start feeds we ran them at half the speed of last night (10ml/hr) and they ran for 6 hours before we shut them off, John threw up several times and the whole next day was just horrible, he felt bad, he just didn't have any energy and he looked sick for a few days before things got back to normal. Last night they ran for the full 12 hours, no puking, no sick, no bloating, no looking like death warmed over today. Dr. Mercer is expecting good things and from the way today looks I'm optimistic!
The other part of our trip to Omaha included time spent with our friends the Baker's. It's always like a mental mini-vacation, just time to relax in good company, spend some time laughing and giggling and enjoying dinner theater. One of John's favorite games there is to sit at the top of the stairs and throw a ball down, this visit Wyatt and Constence wanted in on the game too so Mark sat at the bottom and threw the ball back up the stairs for them, little Lydia joined in too.
John loves to visit friends, when I told him we were going up to see them he started making mail for Constence and then it was all I could do to convince him that while it was sweet of him to want to give her things he did not need to give her his entire room and all of his school stuff too. He loves getting to sit and draw with her and in general she is just a delight, both for him and us!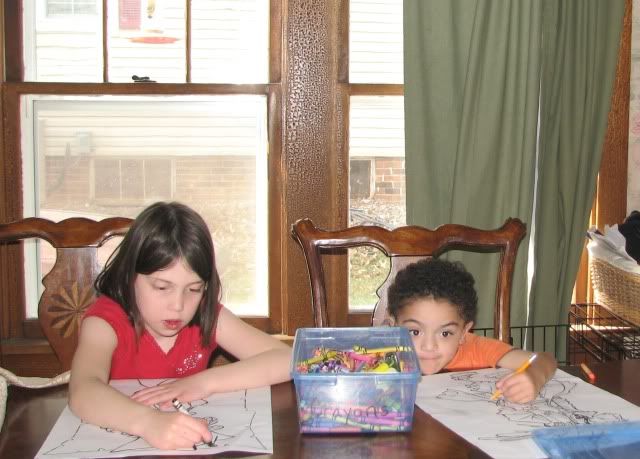 Mellon went with us and she spent her time making sure that the Baker's dog Toby looked like the good dog. Her puppy enthusiasm was a bit overwhelming at times but all in all she wasn't too bad of a girl that she wore out her welcome.
We look forward to returning in May, both for our appointment and for time spent in the company of good friends!