It's almost time to go to Omaha again, and the days have flown by. John and I got to attend a confirmation at the country parish and boy it was nice to get to visit out there again. John had an especially good time sitting on the floor and playing with the other kids. He really loved it when he could catch this crazy looking ball with a raccoon tail thingy attached to it and hand it to the little girls and make them scream. The little girls are tougher than they look though and it didn't take long before they stopped screaming, oh well it was still fun ;)
At home we've been going for lots of walks. John is now tall enough that he can lean out of his stroller and push the wheel on one side. I didn't realize this until I was standing still at an intersection and couldn't figure out why it seemed like the stroller was trying to leave without me. His favorite is to hold onto Lucy's leash while we push him, the dog doesn't like to have to walk by the wheel and the child doesn't like to not have the dog leash and so either one or the other is happy, rarely both. The days that haven't been nice enough to go outside have been spent inside playing trains.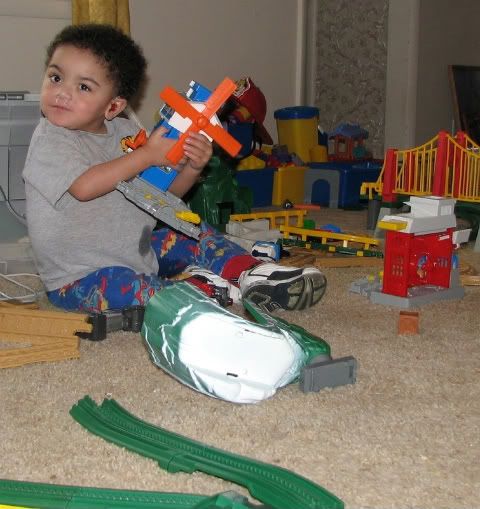 We took all of John's present money a couple Christmas's ago and bought GeoTrax trains for him. At that point he couldn't yet do anything on the floor and so it was put on a table in his room and he and daddy would occasionally play trains. After we went to Omaha this past year and rearranged the whole house the train got relegated to the basement because we just didn't have enough room to put it upstairs. Finally when Mark and I were discussing what to do with all the stuff in the basement, mostly talking about how much of it is headed for the City Wide Garage Sale in May we figured we would just take the train upstairs and see what he thought of it. It's been a huge hit. John likes to pick out which buildings get put where and what track the trains should run on, he likes to hand us pieces, run the trains with the remotes, start and stop the trains at the little buildings and tear the tracks down not to long after they are built so that we can build a new one. Dad and mom have enjoyed building trains too, the grown-ups are trying to see if we can use every piece of track and incorporate every building, so far we've managed to use all but one piece of track and we're still enjoying the puzzle and the little boy time.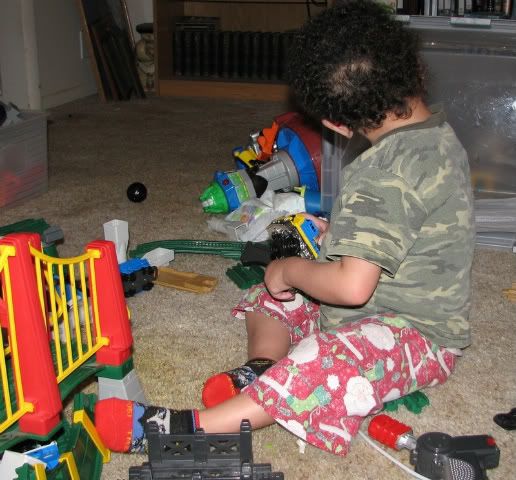 Of course when John saw dad use the screwdriver to take the bottom off of a train to put more batteries in he was fascinated and has been 'working' on every train since. What you can't see in the picture is the little bitty screwdriver that fits perfectly in John's hand. Funny, the dog saw the screwdriver and left the room immediately, I wonder how much that dog really understands about little boys?
As with all kids no matter what the toy the box it comes in is fun to play with too. I tried in vain to get a picture of John in the box, every time he sat up and smiled at me right before the camera flashed. Silly boy, at the moment he's in the kitchen beating on a cardboard box that I was putting trash in, I suspect he's going to make the dog look really good today.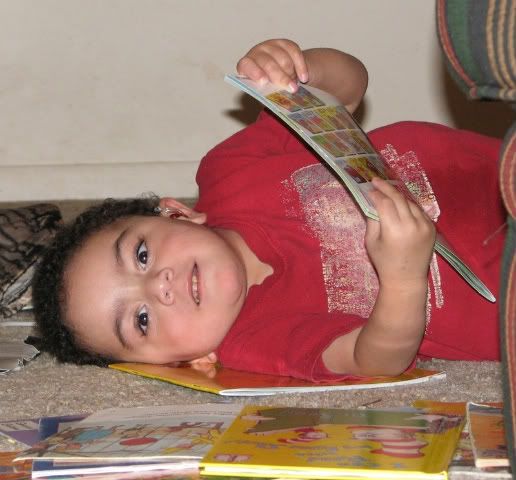 Yesterday he got a new haircut, the little corkscrew curls were so long that they flowed like tendrils in the bathtub and it had to go. He spent the last part of the evening laying on the floor reading books. Funny, he likes Clifford books much better than the show, but he was having a great time laying there looking at all the different ones he has.
John has really been doing some growing up lately. He used to love to have us sit and read books to him for hours on end, now not so much. He likes a few books here and there but he can move around more and tear more things up, and those are ultimately more fun that just sitting still and reading books I guess. At the same time that he used to like books so much he had no real interest in TV, a few minutes and he was done and would rather that you read him another book please. Now he has favorite movies, shows and even favorite episodes of shows. Thanks to the magic of DVR we have a ton of Curious George episodes recorded but every morning he asks to watch the monkey-chicken. A Bridge Too Farm is his favorite Curious George episode and I would guess that he's watched 30 times or so by now. He signs all the way through it to tell me about the chickens, the hats, and also imitates the way that the monkey moves his arms and such. It's been too cute. He also has developed quite a fondness for the animated Disney 101 Dalmations. He signs throughout it too, and also puts his finger in his mouth to tell us that Roger is smoking. He's not seen real people smoke in a very long time so I'm curious to see if he notices next time. Probably the show that John gets the most excited about though is American Idol, by the time the first half dozen notes of the opening music has played he has thrown whatever he was playing with in the floor and is spinning himself around to the tv, waving his arms and kicking his feet all at the same time. It's quite the sight. He tells us 'music', 'music', and after each contestant sings he claps for them and looks around to make sure that Mark and I are clapping for them too. I really didn't realize that he was going to get so into this but probably should have known because one of his favorite videos to watch on my computer is the Evolution of Dance guy ...
John waves his arm around with this guy and he keeps looking and checking for where Mark is and then claps and claps for dad when daddy dances like this guy. John's expressive sign is getting better a little bit at a time, but it's not keeping pace with how fast he's growing up in his head. We are working on this as fast as we can, but I'm pretty sure by the time that he can express all that he is thinking it's going to just be flat amazing.
As we were watching the above video for the umpteenth time John reminded me that this is his other favorite. I think we are going to have to break down and buy the movie one of these days.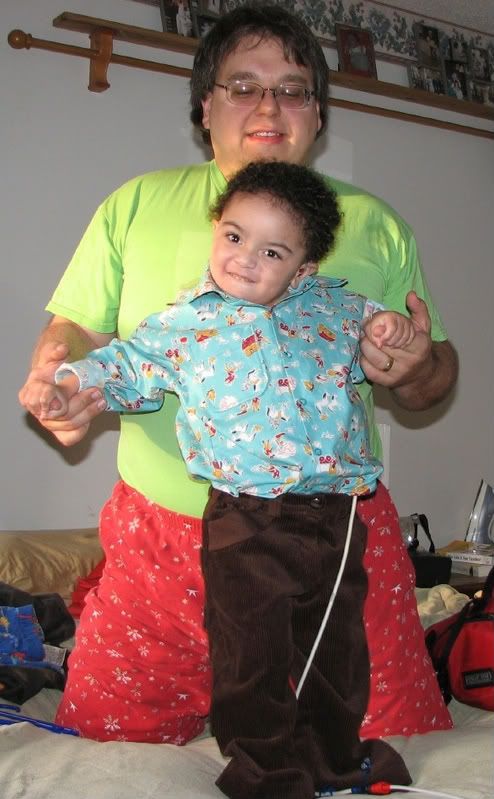 Lastly, I'll share this picture of John's Easter outfit, and yep, I realize it's too big. I believe it's going to fit him right by fall though, at least that's my hope, and hey, at least I got it done during the Easter season, that's a new one for me. We were worried about how he would like a button-down, actually snap-front shirt, but since daddy is starting to wear more and more of these John seems to think that it's pretty cool and after a full day in church with it on he was reluctant to let us have it back. So I'm planning on sewing him a lot more of them this summer, but ones that actually fit :)