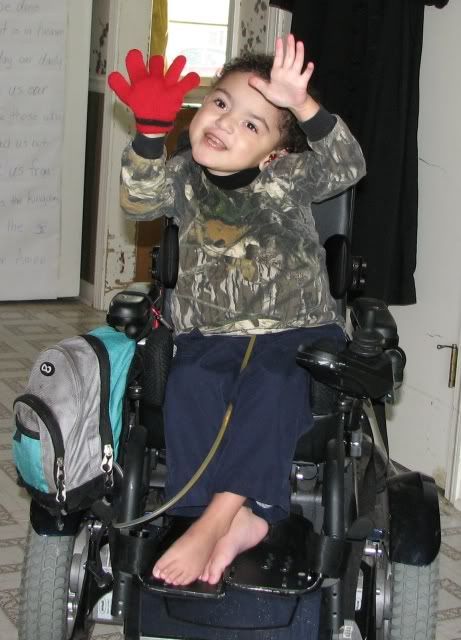 John is feeling kinda puny today, it should pass, but I had this picture in the camera from a few days ago and just had to share it. I'm not sure what was going through the boys head, first he had on one glove then the other, never both at the same time and always really happy, it was cute.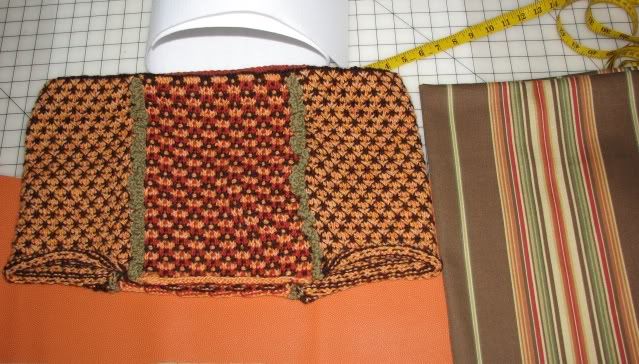 So this if my first knitting project that had actual directions and stuff. It's Mrs. Weasley's bag from the
Harry Potter Knitting book
. I changed the colors, eggplant and raspberry just aren't me, where orange and brown certainly are. The orange fabric below it is pebbly leather like stuff that I want to make a bottom with, I can't imagine knitting a bottom on a bag that will ride most of the way to Montana this summer sitting on the floor of the Jeep. The striped fabric is for the lining, which I want to put a few pockets in to hold knitting stuff and my cellphone and wallet and the white stuff at the top is Timetex to make it stand up nice and pretty. I'm not exactly sure how I'm going to get all these elements to come together yet, but I'll post a picture here and on my Ravelry site when I do.
And just in case anyone is interested Amazon has the knitting book used for under $3, I probably won't be able to resist it at that price as there are a fist full of other projects in there that I am dying to try. Wouldn't John look cute in a Weasley sweater?