Well I don't have a picture from the 4th of July, I totally forgot my camera but Charity will post some and I'll link to her blog when she does. I also don't have pictures of John playing with his Godcousins on Saturday, but Angie does and I'll link to her blog when she posts them.
I do however have this picture of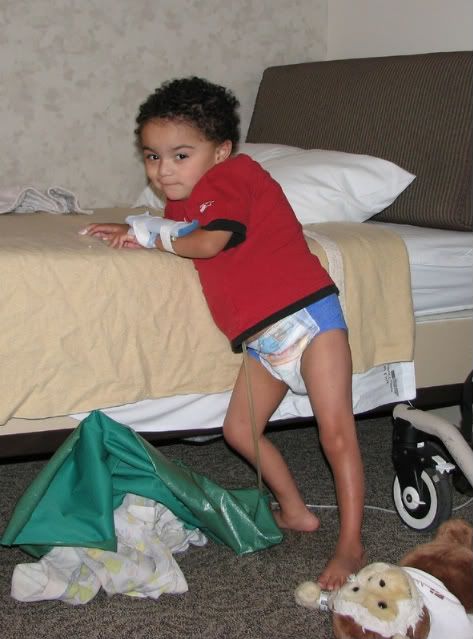 John sneaking out of bed yet again. Silly boy, he's gotten very good at this and is now even trying to get into the gait trainer himself. He's not managed that one yet but I'm sure it's closer than I think. He's also getting much, much quieter at this, and last night I didn't even realize he had slipped out of bed until I heard him in there attempting to reprogram his IV pump.
Mark came in on Thursday afternoon and John and I were both excited to see him. John enjoyed showing him the new tricks that he figured out. Like running down the hall and then picking his feet up and hanging in the gait trainer by his arms as it rolled along. He does this down ramps too and just loves it. He also showed his daddy how he can stick one finger in the hole on the water fountain and then hit the button and make water spray everywhere. I have to keep a close eye on him to keep him from doing this, because he thinks its way cool, and it doesn't help that it makes me giggle.
Friday we went out to Birk and Charity Baker's to celebrate the 4th of July. We had a wonderful time and John was enthralled with the whole thing. First it was fun to watch the other kids light smoke bombs and throw snap-n-pops but soon John was in on the act and throwing snap-n-pops too and carrying smoke bombs out to whoever would light another one. He loved the loud bangs and pops and light and smoke and by the time we carried him home he was exhausted and happy and covered with dirt and powder and whatever else he could find and looked thoroughly like a little boy that had a great time!
Saturday wasn't quite so good, I heard him cough a few times in the night and then Saturday morning we could tell that he just wasn't feeling as good. His lab numbers were kinda off but he still enjoyed getting to play with his Godparents and Godcousins who came to see him. He showed off how far he could walk and loved having Rachel show him books and sit by him. We had a great visit with our dear friends and after they were off back to the wilds of Wyoming we took John back to our room and hooked him up with some fluids to help him get over this snotty hump.
This morning John was back in his finest form, running down the halls, playing with the water fountains, turning circles in the cafeteria, and in general making his cheerful presence known everywhere he went. This evening he even asked to hold half of my sandwich and took a bite out of it - one bite, but for John that's pretty darn good especially in the hospital. He's sleeping peacefully tonight, maybe the snots are leaving, maybe not, but he seems to be compensating well and we are finally being able to get his g-tube feeds back up. I'm looking forward to what his labs are tomorrow and to find out how clinic goes on Tuesday.
Here's the last of the older posts that I had written out and finally gotten posted.
June 24th post: God's Mercy is Tangible.
June 21st post: Amazing Doctors, Big Dogs, Good Drugs, and a Wonderful Husband.