Except for a couple times of very serious acute illness, from the first moment that I met John I could see in his eyes that the wheels were continually turning and he was working things out in his head. Because his expressive language skills lag so far behind everything else we often don't realize just how fast those little wheels are spinning until he has something worked out and can show us.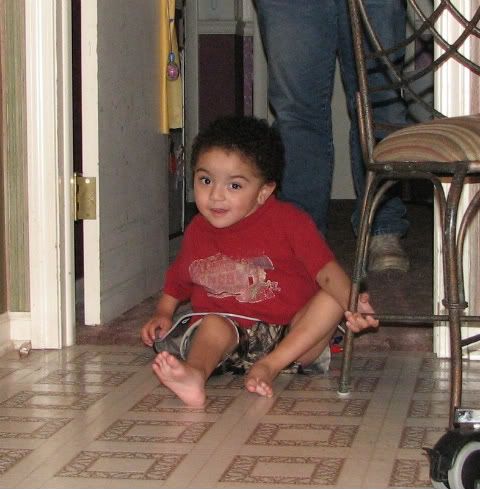 This picture looks much like any other picture of John scooting around - what's amazing about it is that he was laying down in bed a few minutes before this and dad just came to see the new trick, he didn't help. John is still unable to go from laying down to sitting up unassisted but if he scoots, scooches, or rolls out of bed just right he can sit up by himself. I'm not sure exactly how he does it because I don't get to see him until he's already scooting around. Of course, this means that nap time is non-existent, nothing in his room is safe and putting him to bed at night can take multiple attempts. Even this small frustration doesn't erase or cloud the joy that we have over this newly found bit of independence.
John's appointment in Omaha went well last week. The best part of any Omaha trip is the time that we get to visit with the Bakers. We always have a great visit and it amazes me that John has some new trick up his sleeve each time. This time at the dinner table he turned and looked at Chick #2 and started to gag - the Baker chicks are especially sensitive to gagging - poor Chick #2 reacted just like any kid who thought that he was going to get hurled upon and while he was trying to get away from John, John turned and gave me that evil little grin, the one that accompanies every new ROTTEN thing that he learns. I've always known that some of his gagging and such was on purpose to get out of stuff, I just didn't know that the rotten little stinker figured out how to tease, pick-on, annoy other kids with this. I should have known, and it paid off later. We're in hopes that John's little rotten streak won't rub off too much on the Bakers and that their amazing penchant for memorizing the catechism will rub off on him.
After enjoying the Baker hospitality we were off to Omaha for John's actual appointments. Poor kid had to be stuck 3 times to get enough blood for labs and ended up with a quarter sized bruise on his arm from one vein that blew. I was tempted to make them start drawing from his line from now on, but the news that we got later in clinic negated that idea.
Before we actually got seen in clinic, appointment time and being seen can be and often is a couple hours apart, we got some time to catch up with fellow-back-pack-boy Quintin and his mom. We hadn't seen them for a while and were impressed with how old Quintin is looking with his new big boy hair cut. They are heading home to Georgia and we're praying that all goes well and thy get their soon - there just really is no place like home.
John has lost about a pound, but actually I think he lost a couple over the recent intestinal virus and is already gaining again. His labs were great, his liver numbers and triglycerides are still a bit elevated but that is to be expected right now especially with him getting most of his calories from sugar. He's just a bit taller, a smidge, and Dr. Sudan was very happy with how he looks. She has cut his IV fluids back again this week and next and if he can keep his lab numbers looking great and gain a bit of weight in these two weeks then she is going to cut them even further and when we go back in June we can start talking about taking his central line out. His line is a serious double-edged sword and we all want it out before he has a chance to get another nasty infection which not only endangers his life but also sets him back in every way. Getting and being able to keep that line out is a major step on the road to John getting to grow up.
The next major step to his doing well and having his best chance is getting him to eat real food and the more of it the better. Ideally he needs to eat all the calories that his little body requires, about 2000 a day, but hopefully he can at least get a significant portion from real food. This makes total sense to us as real food is much better for him than living on corn syrup solids, soybean oil and artificial vitamins which is what his formula is. With few exceptions short-gut kids are notoriously poor eaters and so are kids with kidney issues so that kinda backs him into a pretty tight corner.
Dr. Sudan talked to us about putting John in an intensive feeding program. That would mean that John and I would be living in Omaha for a month this summer and John would be in therapy 8 hours a day for the duration. This sounds like a particularly sadistic level of hell to me, so while we agree that John MUST eat, and if all else fails feeding therapy is the road through hell that we must travel, we are trying an alternate route for the moment. Since getting home from Omaha we have been making John eat a half dozen or so bites at each meal. This has not been enjoyable - but thanks to his little trick with the Baker Chick we knew that gagging was fake and promised him the spanking of his life and a whole new plate of food if he puked - funny, he immediately stopped gagging. Last night he finally voluntarily ate on his own, okay he was bribed with getting to play his new Reader Rabbit Toddler game after he ate, but it worked, and we were happy. This morning knowing that we were in a hurry to get to church he ate his two bites of toast and refused both egg and the strawberry that he asked for. He knew that we couldn't be late and we wouldn't not go. What he didn't know is how fast our wheels turn and how long we remember stuff. When he got home he got to do NOTHING until his eggs and strawberry were eaten, he did it pretty willingly, at least for the moment we seem to have struck pay dirt on this one.
But as I said those wheels continue to turn, and quickly, so I don't know how long he'll stay out-foxed. Maybe he'll be distracted with learning other things. So far this week he's learned to unscrew a screw on cap, to hold onto the bed and walk right (he's been able to go left for a while now) if there is enough incentive, dad's CPAP is that way, and that if he pulls his backpack up next to him and holds it when he scoots around it won't get caught around corners - who knows what's next but I'm sure going to enjoy watching even if it's something that drives me crazy.